Andrew Davies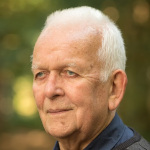 One of Britain's most prolific screenwriters and a figure uniquely known for his status as an adaptor, Andrew Davies was born in Rhiwbina, Cardiff in 1936. He attended Whitchurch Grammar School in Cardiff before completing a BA in English at University College, London, in 1957. After three years in a teaching post at St. Clement Danes Grammar School in London and for a further 2 years at Woodberry Down Comprehensive School, Hackney, Davies became a lecturer in English at Coventry College of Education. Davies worked at this institution from 1963-71, continuing after its merger with the University of Warwick for a further 16 years until he left academia to become a full-time writer in 1987.
Before this point, Davies combined his teaching with writing and his early work for the BBC typically took the form of one-part contributions to anthologies, such as the BBC Home Service's (now known as BBC Radio 4) Monday Night at Home series (1960), and his first television play, Who's Going to Take Me On? (1967), was broadcast as part of BBC1's The Wednesday Play. In 1976, he dramatised Charles Dickens' The Signalman for the BBC's Ghost Story for Christmas. The piece was critically well-received and serves as an early indicator of Davies's talent as an adaptor. The late 70s and 80s is a testament to Davies proliferation and diversity as he continues to write for radio, stage, and screen, as well as publishing several children's books, including the Marmalade Atkins Series which he would later adapt for the BBC, with Charlotte Coleman starring in the titular role.
However, it was the original BBC series, A Very Peculiar Practice that would cement his influence as a screenwriter; with its sharply-observed, BAFTA-awarded script, the surreal black-comedy is set on a fictional university campus suffering from funding cuts under a Tory government. This appeared to set the tone for the early 1990s as his return to adaptation in 1990 with novelist Michael Dobbs' House of Cards, saw a continued exploration of Conservative corruption, through the character of Tory Chief Whip, Frank Urquhart. House of Cards is notable for being second only to Pride and Prejudice in terms of securing a lasting cultural legacy, and Davies' series, rather than Dobb's novels, provides the basis for the Netflix production starring Kevin Spacey, of which Davies is an executive producer.
It was during this early 90s period that Davies also began writing the adaptation that would make him, and his particular brand of adaptation, a house-hold name: Pride and Prejudice. The script was initially rejected by ITV, and the BBC only accepted it on the condition that he wrote a screenplay for Middlemarch beforehand, later to develop into the1994 six-part television dramatisation.
The BAFTA and EMMY award winning BBC mini-series, Pride and Prejudice starring Jennifer Ehle as Elizabeth Bennet and Colin Firth as Fitzwilliam Darcy, is one of the most memorable and best-loved adaptations of all time. Davies brought a new dynamism to the period drama and it is viewed as a landmark piece of television that forever changed the production values of the genre. Indeed, the extent of the production's influence is apparent in the fact that, while Pride and Prejudice established Davies as an auteur-like figure, it also inspired a number of parodies and its own adaptations. Chief among these is Helen Fielding's successful 1996 novel, Bridget Jones's Diary, which was then adapted for film in 2001 as well as the sequel, Edge of Reason , in 2004.
Davies has since continued to produce screenplays of classic novels, with adaptations of Moll Flanders (1996), Vanity Fair (1998), Wives and Daughters (1999), The Way We Live Now (2001), Daniel Deronda (2002) and Dr Zhivago (2002). More recently Davies has returned to Austen with Northanger Abbey (2007) and Sense and Sensibility (2008). His fifteen-part serialisation of Bleak House (2005), meanwhile, garnered BAFTA and Emmy awards for its richly dense adaptation and was commended at the Peabody Awards as 'appointment viewing'.
Contemporary novels have also received Davies' attention in recent years, including Sarah Waters' Tipping the Velvet (2002) and Affinity (2008), and the Booker-prize winning The Line of Beauty (2006), alongside dramatisations of literary history, such as The Chatterley Affair (2006) and A Poet in New York (2014), about Dylan Thomas's last days. Most recently, Davies adapted War and Peace (2016) for the BBC in a sumptuous six-part series, Sanditon (2019) for ITV and Vikram Seth's A Suitable Boy (2020), also for the BBC.
Davies has a long productive working relationship with DMU, the Centre for Adaptations and its director, Professor Deborah Cartmell, as an honorary graduate of the university and Visiting Professor of the Centre since 2009. Davies donated his papers to the university through the Centre in 2015.
[The above text is slightly adapted from the DMU Special Collections Andrew Davies Archive.]